Best Shade Trees for Utah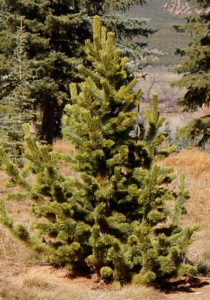 The Bristlecone pine tree is native to the western United States and grows primarily at timberline. It is one of the world's oldest living organisms with the oldest known living example being dated at 4,789 years of age. These ancient trees have a fittingly gnarled and stunted appearance, especially those found at high altitudes and have reddish-brown bark with deep fissures. The green pine needles give the twisted branches a bottle-brush appearance. The name Bristlecone pine refers to the dark purple female cones that bear incurved prickles on their surface. They grow slow but live a long time. Because of their immense height they're among the best shade trees for Utah.
Height: up to 100' high
Width: up to 10-15′ wide
Other Shade Tree Options
Although we believe the Bristlecone Pine to be among the best shade trees for Utah, we also recommend the Colorado Blue Spruce. They can both grow up to extreme heights of 100′ and each have large sweeping boughs. These contributing factors make them some of the best shade trees you could thing of to have in your yard. If you're not looking for a traditional full, large pine tree, the Austrian Pine may be for you. It normally grows in layers, having distinct rows of needles and branches then an empty space. Although they don't look like your traditional Christmas Tree or full pine tree, they are very good landscaping trees. They are great wind breaks, provide adequate shade, and are very aesthetically pleasing.
Purchase the Best Shade Trees for Utah
Call us at (385) 257-0055 or email us by clicking here.